ARTS
HERBS
FUNGI
TREES
MYTHS
MEGALITHS
FEATURES
Youtube

The History of the Sidhe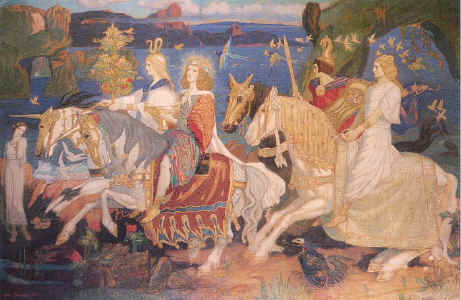 Riders of the Sidhe, by John Duncan, 19th c. Scottish artist.
The people known as "The Sidhe" or people of the mounds, or "The Lordly Ones" or "The Good People" were descended from the "Tuatha de Danann" who settled in Ireland millennia ago and in being defeated by the Milesians they retreated to a different dimension of space and time than our own, believed to be living under mounds and fairy raths and cairns, and also the land of "Tír na nÓg" a mythical island to the west of Ireland.
Placenames in Ireland with the pre-nouns Lis, Rath, and Shee are associated with these people for example Lismore, Lisdoonvarna, Sheemore, Rathfarnham etc.
Down through the ages the Sidhe have been in contact with mortals giving protection, healing and even teaching some of their skills to mortals - Smithcraft or the working of metals being one such skill. Cuillen (Culann) is one such sidhe smith who has been told of in the legends of Cúchulainn and the later legends of Fionn mac Cumhail.
The Gaelic word sí or síog refers to these otherworldly beings now called fairies. The Irish fairy is not like the diminutive fairies of other European countries, the Sidhe are described as tall and handsome in all accounts, also they are dressed very richly and accounts of their halls are of richly decorated places with sumptuous foods and drinks.
The Sidhe are generally benign until angered by some foolish action of a mortal. Many trees and mounds are considered under their protection and if a mortal destroys or damages these then a curse is put upon himself and his family. In some parts of the countryside people would not build their houses over certain "fairy paths" because of the type of disturbances which would ensue.
Whenever a host of the Sidhe appears there is a strange sound like the humming of thousands of bees also a whirlwind or shee-gaoithe is caused.
Stories, Myths and Legends Associated with the Sidhe
Further Reading: O'Hanlon, rev. John (Lageniensis), Irish Folklore: Traditions and Superstitions of the country. first published 1870, republished E.P publishing Ltd., 1973.
© Shee-Eire: